As Orthodox we are "people of the book." The Bible is central to our faith and worship. We believe the Bible to be the real living Word of God. It is alive and vibrant.
St. Mary of Egypt, a 5th century ascetic lived for some 47 years alone in the desert. Shortly before her death she met a monk named Abba Zosimas. When Abba Zosimas heard Mary quote the Scripture, he asked her, "Where have you read the Psalms and other books?" She smiled at hearing this question, and answered, "Believe me, I have seen no human face but yours from the time that I crossed over the Jordan. I never learned from books. I have never heard anyone read or sing from them. "The Word of God, which is alive and acting, teaches man knowledge by itself " (cf. Col 3:16, 1 Thess 2:13).
It behooves all Orthodox Christians to study the Holy Scriptures daily. Every day throughout the Orthodox church there are prescribed daily readings. These can be found by clicking here.
Which came first: the Church or the New Testament? Many do not realize that the Church preexisted the New Testament Canon and that the New Testament was born out of the life of the early Church. It was not until 363AD that the actual books of the New Testament were listed. The original list did not include The Book of Revelations. It was not until 397, at the council of Carthage that all 27 books of the New Testament were declared canonical and that these books were to be read in the Church as God's Holy Scriptures. "The Bible came from us."
Sola Scriptura— The doctrine of Sola Scriptura is a foundational Protestant doctrine. This approach to interpreting the Scriptures is in large part the cause of the continued splintering of Protestantism into 20,000+ different denominations. To learn more click here.
How to Read the Bible—The Orthodox approach to studying the Word of God.
The Orthodox Study Bible: "Ancient Christianity speaking to today's world." The Orthodox Study Bible is the fruit of over twenty years of labor by many of the best Orthodox Christian theologians of our time. It includes the original translation of the Old Testament from the Septuagint. It includes comprehensive study guides and teachings that bring to our modern world the mind of the ancient Christian Church.
Other recommended readings are:
The Bible and Church History, Volume III of the Orthodox Faith.
How to Be Nothing: Humility, Self-Confidence, and Restoring Love and Joy to t...
11 Jun 2021 at 4:23am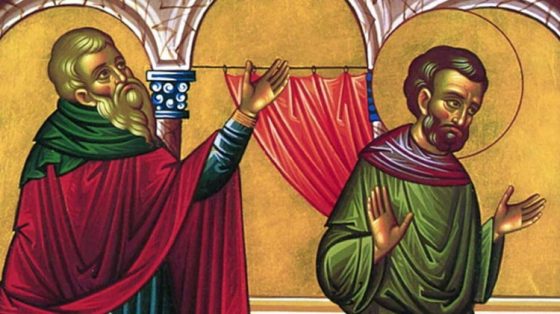 "Not as the world gives, do I give unto you" (John 14:27). But does this promise of our Lord apply not only to His peace, but to other blessings as well. Could it be, for example, that the self-confidence of a Christian needs to be very different ...